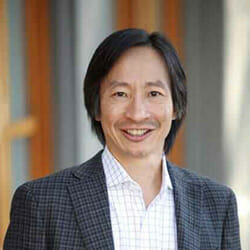 E-mail:
Augustine V. Cheng, J.D.
Phone:
480 884 1996
Augustine V. Cheng, J.D.
CEO and Chief Legal Officer
Augustine "Augie" Cheng has been CEO and chief legal officer of Skysong Innovations since July 2007. Cheng is a member of the board of directors of Skysong Innovations. He serves as the designated IP Official for ASU, and is a member of the executive team of ASU's Office of Knowledge Enterprise Development. In November 2011, Cheng was also appointed senior vice president and managing director of the ASU Foundation, the parent company of Skysong Innovations.
Prior to joining Skysong Innovations, Cheng was the founder and chief counsel of the Patent & Licensing Group in the Office of the General Counsel at Columbia University in New York. In that capacity, he supervised a team of IP attorneys and was responsible for all legal affairs relating to Columbia's patent protection, licensing programs, and related litigation. He has extensive experience in structuring, drafting, and negotiating agreements in the areas of IP licensing, industry-sponsored research, research consortiums, international collaborations, and inter-institutional agreements. During his tenure at Columbia, Cheng advised the university administration on policy issues relating to intellectual property, research, and conflicts of interest while focusing on technology transfer, litigation, and contracts. In addition, he advised the administration and board of trustees on the January 1998 merger between Presbyterian Hospital (the hospital affiliate of Columbia) and New York Hospital (the hospital affiliate of Cornell), and continued to work on post-merger issues for the College of Physicians & Surgeons at Columbia.
Cheng has private practice experience as a litigation attorney in the New York law firms of Cravath, Swaine & Moore and Schulte Roth & Zabel. He also served as a law clerk to the Honorable William H. Timbers of the United States Court of Appeals for the Second Circuit.
Cheng received a bachelor's degree in political science from Columbia University and attended Fordham University School of Law, where he served as an associate editor of the Fordham Law Review. He holds an "AV/Preeminent Attorney" rating from Martindale-Hubbell, and is a member of the AAA National Roster of Arbitrators.


Our team
We're committed to helping you succeed.
Business development consultants